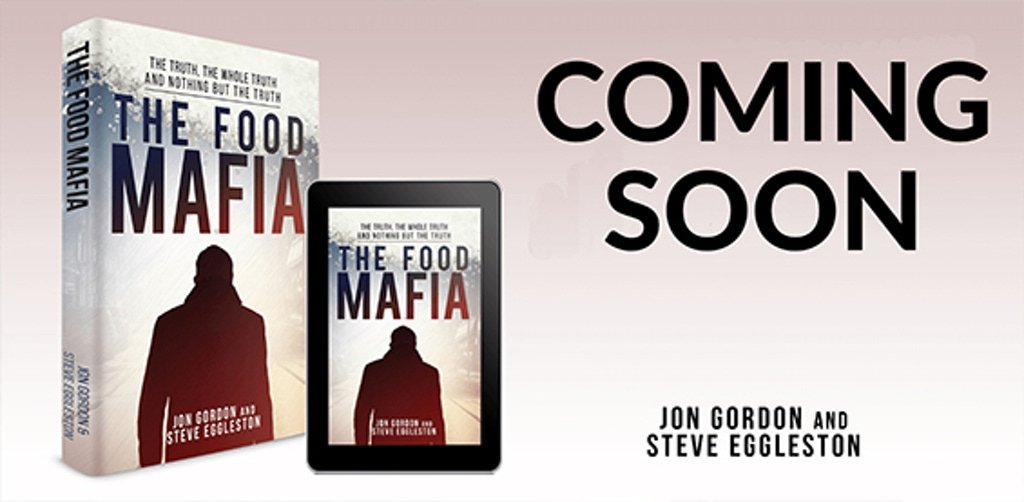 The backstory:
In the spring of 2015, I was visiting my college roommate near Washington, D.C., researching my futuristic thriller, "2084," when one day I see a post on Upwork by Jon Gordon, looking for a "Freelance Writer for Non-Fiction – 'roman à clef' Novel." I applied, delineated my history, and showed him "Conflicted," my critically-acclaimed legal thriller featuring Detective Trip Splatter. He loved it, but before he would hire me he wanted to see a draft of the first chapter of his desired book, for which he already had the title: "The Food Mafia."
To give me guidance, Jon told me about his epic battle with Nestle over the survival Clemmy's, the first-ever premium, amazingly tasty, totally sugar-free ice cream. He cautioned he couldn't tell the exact story, because he'd signed a confidential settlement agreement, but that the whole horrible ordeal had inspired him to write a fiction novel addressing the evils of sugar, processed food, and special interests ruining the health of a nation. "Take it and run with it," he told me.
And wow did I! "The Food Mafia, a Bobby Greystein Novel, by Jon Gordon and Steve Eggleston," creating its own new sub-genre, the Healthy Food Thriller, became the result. With the book nearly finished, but timing being everything, that fall Jon attended my wedding in Somerset, England, and rather than honeymoon with my wife, we finished the book at his rental suite above Glastonbury. Thanks to my wife, the lovely Dana Amma Day, for understanding. The book, she is a jealous mistress.
Crazy? Yes. Insane? Maybe. But boy did we crack the code. The very day we finished, September 9, 2016, the New York Times ran an article by David Singerman, entitled The Shady History of Sugar , charging the sugar industry with bribing Harvard scientists to create a fraudulent Food Pyramid in America.
Days later, the revered Center for Science in the Public Interest released a long-awaited Report written by Pulitzer Prize-winning journalist Gary Rivlin. Called "RIGGED: Supermarket Shelves for Sale" (September 2016), https://cspinet.org/resource/rigged. the Report featured Jon's Clemmy's Ice Cream experience as an example of the evils that needed to be stopped to protect the health of a nation.
Through a mutual friend, we pitched the book to Harvey Weinstein as a potential feature motion picture. He loved it and his staff read every link. We were chuffed and majorly impressed. Then, the day Jon was buying his plane ticket to fly to New York to meet with the Weinstein Company, a shocking story took grabbed the headlines: "Harvey Weinstein Paid Off Sexual Harassment Accusers for Decades."
We pulled the project and turned to my old friend, the legendary literary manager who had first repped "Conflicted" and released it on his vanity imprint, Global Lion Publishing, through the Amazon White Glove Program. The stars aligned. Peter told us he'd survived cancer, blamed cancer in part on the evils of processed food, and met me at the London Book Fair to discuss the movie and the book. The rest became art mimicking life, as Peter took us on with vigor, passion, and heartfelt enthusiasm, and at his suggestion, we launched a blog to push the narrative off our new website, TheFoodMafiaBook.com.
Though a movie deal has not yet been made, Universal Pictures loves our pitch and a major actor is interested. For teh curious few, here is the Synopsis, Early Reviews, Compelling Articles and Links that stand behind:
The Food Mafia – The Truth, the Whole Truth, And Nothing But the Truth (so help me God)…
~ ~ ~
Few books are as timely as The Food Mafia. Here's the Synopsis, followed by early reviews, compelling articles, links, a sample of the Prologue and Chapters 1 and 2:
SYNOPSIS
Inspired by true events…
An entrepreneur creates a healthy food company out of public need and the desire to save lives: he's pre-diabetic and two of his friends are dying of diabetes. In fact, look to your left and look to your right: 110 million Americans suffer from pre-Diabetes and Diabetes, not to mention over 100 million more suffer from obesity and heart disease.
Bobby Greystein never imagined that, in the process of creating a healthy food company, beginning with the simple cookie, he'd uncover the biggest wrong ever perpetrated on the American people – bigger than illegal drugs, bigger than Big Tobacco and, perhaps, bigger than terrorism itself… a wrong perpetrated by one of the largest food companies in the world, conspiring with the sugar cartels, the corn lobby and, yes, The Food Mafia.
Death, bombings, eavesdropping, and assassinations don't normally accompany legal disputes over cookies, but here, no one is safe. The Big Food-Big Sugar Industrial Complex will do anything to protect their bottom line, and the fact that people are dying in the millions on the battlefield of profit over people, and greed over health, does not matter.
Employing a former Stasi (East German) assassin, hackers from the dark web, and good, old-fashioned industrial espionage, Big Food company Hessen keeps sugar-free start-ups out of the market… and if they dare get a foothold anyway, there's always the deadlier "off-shelf" strategy: judicial corruption, political bribery, and murder… after all, the La Cosa Nostra has been doing it for years.
Follow Susie's Cookies entrepreneur Bobby Greystein as he takes them all on… only to lose the one thing that he cherishes the most.
Early Reviews
Review by multiple, award-winning British author (of 24+ fiction and non-fiction works) Piers Paul Reed: "Hi, Jon. Many congratulations to you and Steve Eggleston on The Food Mafia. It is quite a saga, with convincing detail, and all the feeling that comes from your own experience. It should be a best-seller. Best wishes, Piers."

"I finally read your book, and I enjoyed it very much! Interesting, complicated plot…and you certainly drive home points about the harmfulness of sugar and skulduggery at the supermarket. I had such a good laugh when I read about the $6.2 trillion settlement. Thanks for the nice comment about CSPI in the acknowledgments…Good luck with your book—I hope to see it in airport bookstores soon! Mike"

Michael F. Jacobson, Ph.D.
President, Center for Science in the Public Interest
"It's hard to think there's a new arena for the crime/corruption thriller, but Jon Gordon and Steve Eggleston have found one. It's the David – trying to fight back against a world polluted by obesity and poisoned food – fighting the people who profit from that poison and misery. Stasi hitmen, ruthless CEO's, criminally complicit politicians – it's that rare blend of fact and fiction that is a harrowing as the former and exciting as the latter."

James Dalessandro, author 1906: A Novel and Citizen Jane.

On the very day we finished our draft manuscript, the New York Times ran a story entitled, The Shady History of Sugar. Reality mimicking art mimicking reality, it revealed the Big Food-Big Sugar Industrial Establishment has been bribing Harvard scientists, corrupting politicians and defrauding the American public – if not the world – for decades… as to the poison that's sugar.
Here are a few choice lines from the article:
On Monday, an article in JAMA Internal Medicine reported that in the 1960s, the sugar industry paid Harvard scientists to publish a study blaming fat and cholesterol for coronary heart disease while largely exculpating sugar…
This revelation rightly reminds us to view industry-funded nutrition science with skepticism and to continue to demand transparency in scientific research. But ending Big Sugar's hold on the American diet will require a broader understanding of the various ways in which the industry, for 150 years, has shaped government policy to fuel our sugar addiction…
The [sugar] refiners' real agenda, of course, was not Americans' health; it was to maximize their profits from selling sugar… [forming] the Sugar Trust, one of the most notorious and successful monopolies of the Gilded Age. By the early 20th century, belief in the health benefits of refined sugar was so widespread that increasing Americans' consumption of it became a goal of federal policy…
But that's just the tip of the iceberg. The next day, the Center for Science in the Public Interest released a scathing, 40-page Report, entitled: Supermarkets 'Rigged' through Secret Deals with Food Manufacturers. The release stated:
New Investigative Report Finds Slotting Fees, 'Category Captains,' and Other Deals Undermine Consumer Choice…
Backroom deals between supermarket chains and food manufacturers help determine which products get placed in high traffic areas—and which products appear at all. The Center for Science in the Public Interest today is releasing a report exposing these little-known and poorly understood practices and is calling on the Federal Trade Commission, the Securities and Exchange Commission, and state Attorneys General to investigate the murky financial arrangements between supermarkets and manufacturers that help shape what America eats…"
CSPI commissioned investigative journalist Gary Rivlin to examine how companies get their products featured in particular locations in supermarkets. Rigged: Supermarket Shelves for Sale begins with an account of Jon Gordon, an entrepreneur who founded Clemmy's, a brand of sugar-free ice cream that got shut out of the retail system…
This in turn led us, shockingly but not surprising, to Schroder's 2016 financial forecast for investors, Is Sugar Turning Food into the Next Big Tobacco? An Investor's view of metabolic syndrome:
This note assesses the emerging trends that we think will create headwinds for the food and beverage sector. We believe that sugar consumption and its contribution to a wide range of health problems, such as diabetes, high blood pressure and obesity (which collectively are known as metabolic syndrome), are central to this risk. Our research suggests that there are many similarities between major food and beverage companies ("Big Food") and major tobacco companies ("Big Tobacco"). We believe there are three catalysts that could result in Big Food becoming the next Big Tobacco, potentially resulting in lower sales growth, higher costs and large-scale litigation.
Decades earlier in 1972, leading British Nutritionist Robert Yudkin wrote a book entitled, Pure, White and Deadly. For his efforts, the Big Food-Big Sugar cartel trashed his reputation and bankrupted him.
Then in the 1990s, renowned U.S. child obesity expert Dr. Robert Lustig (still alive and active today), re-released Yudkin's book under the title, Pure, White and Deadly: How Sugar Is Killing Us and What We Can Do To Stop It, affirming that Yudkin was right in most everything he said. Lustig's concurrent YouTube video went viral to millions.
Since the publication of the New York Times article, other media have joined the bandwagon, uncovering ever more sordid details on the massive sugar fraud which has misdirected America's dietary standards for decades, reminding us of the early days of Big Tobacco's categorical denials and demise. In The Food Mafia, the truth, the whole truth and nothing but the truth – the story of greed, corruption, and fraud, at the highest levels of industry, government and science – finally comes out, albeit in the fictional story of Bobby Greystein.
But it will not be without a fight. Just like Big Tobacco did not lay down, nor will Big Food and Big Sugar. Controversy will swarm all over this… making it a highly valuable literary property with mega-potential spin-offs, all following the adventures of the new folk hero for a new age of health and truth.
The Food Mafia – The Truth, the Whole Truth, And Nothing But the Truth (so help me God)… by Jon Gordon and Steve Eggleston, puts the truth about the Big Food-Big Sugar Industrial Establishment centrally into the story of a modern-day "inspired by" legal thriller complete with bombs, eavesdropping, murder, and assassination… that is ideal for worldwide literary publication, a feature film, and a Netflix original TV series in the vein of House of Cards, Homeland, and Damages.
It's the Tobacco controversy coming to roust as Big Food-Big Sugar, certain to result in state lawsuits brought by state Attorney Generals, national private class action lawsuits, Justice Department and FBI Investigations, and Congressional Hearings – exposing the ugly underbelly of greed on the grandest scale ever… and author Jon Gordon was and is at ground zero with his Clemmy's ice cream saga.
---

Brownell, Kelly, and Warner, Kenneth, The Perils of Ignoring History: Big Tobacco Played Dirty and Millions Died. How Similar Is Big Food? The Milbank Quarterly (March 2009)

Brownell, Kelly, Food Industry Pursues the Strategy of Big Tobacco, Yale School of Forestry and Environmental Studies (04/08/09) [study on obesity]

Domonoske, Camila, 50 Years Ago, Sugar Industry Quietly, The Two-Way NPR (09/13/16),

Irving, Elly, Is Sugar Turning Food into the Next Big Tobacco? An Investor's view of metabolic syndrome, Schroeder (April 2016),


Rivlin, Gary, Report: RIGGED: Supermarket Shelves for Sale, Center for Science in the Public Interest (September 2016),

Robertson, Jane, Candyland, The Sugar Façade Exposed, Desert Health News, Health is a Choice (March-April 2017),

Singerman, David, The Shady History of Sugar, New York Times (September 2016),

Taubes, Gary, and Couzens, Cristin Kearns, Big Sugar's Sweet Little Lies – How the industry kept scientists from asking: Does sugar kill? Mother Jones (2012),

Teicholz, Nina, Don't Scapegoat Big Sugar (Blame Big Food), Lots of food producers profited at the demonization of fat, Los Angeles Times (September 2016)

Read more about The Food Mafia at TheFoodMafiaBook.com and follow the Blog.